Home
>
Precision Polishing Technology

About Precision Polishing Technology
Our special polishing technique is an original method which was developed by working unflinchingly on the polishing of shapes and materials which many people abandon, saying that the polishing is difficult or impossible with conventional methods, such as grinding, electrolysis, blast, buff, and barrel. We can perform mirror finish of a rough surface along the shape. Please see processed examples below.

We achieved mirror finish of discontinuous surfaces such as peaks, sides, and valleys of the inner surface of a flexible tube used for semiconductor manufacturing equipment which represent ultra clean technology. As one of the key points of contamination control, there is a surface roughness of the inner surface of a fluid path pipe for pure water, high-purity gas, and chemical. Our special polishing could get the finished surface either equaling or surpassing electrolytic polishing or chemical polishing. Moreover, we can uniformly polish the whole area of the corrugated surface of vaccum seramic pinchuck

In the field of medicine or analytical equipment, the pipes which are narrow and bent, manufactured by spinning or to taper have been increasing, but we can polish them. We can polish pipes, if their inner diameter is 0.003inch and their length is 39.4inch or if their inner diameter is 0.007inch and their length is 78.8inch.

Proven Materials of Precision Polishing Technology
Stainless Steel SUS303,304,316,316L
Fine Ceramics Silicon Carbide (SiC), Alumina, Aluminum Nitride
Titanium
Nickel Titanium
Cobalt Chrome
Inconel
Hastelloy
Tantalum
Aluminum
Quartz
Molybdenum
Zirconia
Tungsten
Performance and field (Processed Examples)
Semiconductor field
Flexible Tube Interior Polishing(Material:SUS316L)
Before Polishing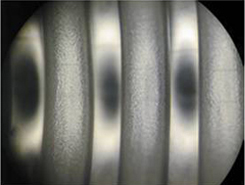 After Polishing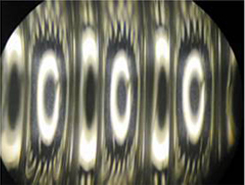 Medical and Analysis field
Nozzle Interior Polishing (Material:SUS304)
This nozzle has been used for the biopsy device.
We can polish from I.D. 0.003inch
Thick tube part O.D. 0.03inch I.D.φ0.7inch
Tubular part O.D. 0.02inch I.D.φ0.4inch
Before Polishing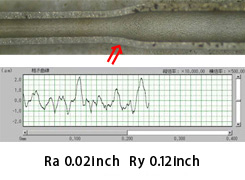 After Polishing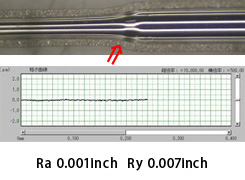 Medical and Analysis field
Capillary Tube Interior Polishing(Material
This capillary tube is used for high-performance
Liquid chromatograph column.
I.D.0.003inch~ :Length ~39.4inch
I.D.0.007inch~ :Length ~78.8inch
Before Polishing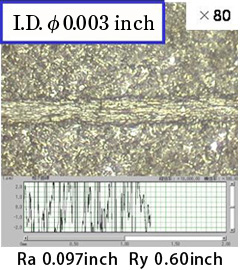 After Polishing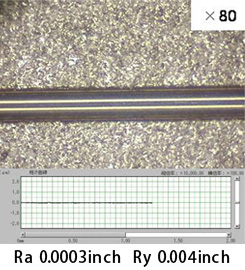 Prefabricated piping
Pipe Welded Part Interior Polishing (Material:SUS316L)
This pipe is used in gas field. We can polish welded part
and bending part, which is difficult or impossible
with conventional polishing methods.

Before Polishing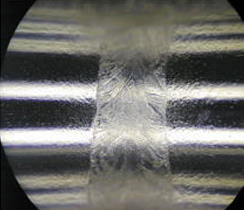 After Polishing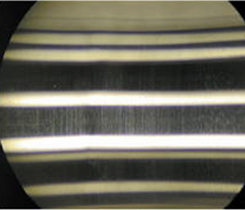 Bending pipe
Material:SUS316L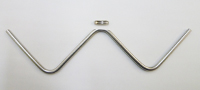 Before Polishing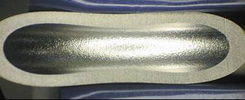 After Polishing

Spiral pipe
Material:SUS316L

Before Polishing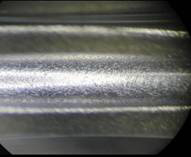 After Polishing