Home
>
Automatic Assembly Machine

Ideas of Development and Design
We think that the basics of producing automated equipment or laborsaving equipment are to meet three conditions: space-saving, high functionality, low-cost

The history of the business started when the department of manufacturing contract
(subcontract manufacturing) took the first step into the in-house manufacturing of
production equipment in order to win the competition with our clients (the owner)
or competing rivals in the industry in the field of QCD.

In the initial step of organizing the automation of production process, we start by thoroughly observing and analyzing the actions of workers (movements of arms, legs, fingers, line of sight) in the manufacturing floor and the movements of objects (parts and work tools).
As one of the characteristics of development design of our own facilities, there is an idea that function is nothing special and a compact design to minimize the installation space is necessary. This is a big challenge to create higher added value through a limited factory space.

We have confidence about the know-how we had accumulated through our great efforts to meet "space-saving, high functionality, and low cost" at manufacturing premises for
over 30 years.
We manufacture vehicle electronic component assembly equipment whose production takt time is about 1 second per piece, carrier machine, work piece supply equipment, pick and place unit, and take-out machine which use cam mechanism.
Production Example:1
Precise and high-speed automated assembly line using cam mechanism
Accuracy improvement and saving-space by putting different indexes in a same base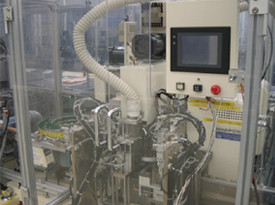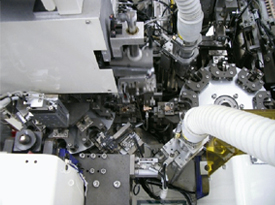 Production Example:2
High-speed automated assembly line with dust-proof mechanism of pulse air
Concentration of air washing by turning parts, dust collection, blowing, dust removal,
and demagnetization technology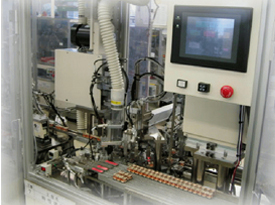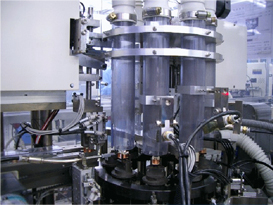 Production Example:3
Parts transport system using a multiaxis robot
Utilization of flexible movements of a multiaxis robot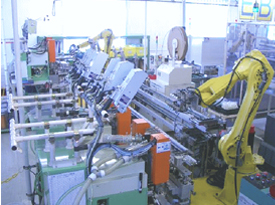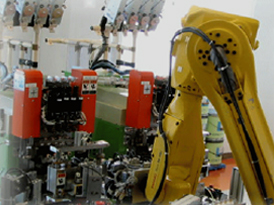 A high capital investment tends to be withheld. We aggressively propose emiautomated devices and jigs which can be produced in a short period and which you can purchase at a price commensurate with quality and production scale.
We have been reliably entrusted with parts production at quick delivery by sending or receiving direct data from our clients. We actively process parts at our Chinese factory.